FLORA AND FAUNA
FLORA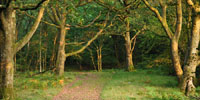 The walks in this section of the Esk will take you through spectacular old oak woodland, past 100 year old fir trees. Birch trees colour the sky with their red upper branches in winter and bright green leaves in spring. The daffodils around the church are soon followed by bluebells along the river banks and in early summer the bracken and heather add to the vibrancy with greens and purple. In Stanley Ghyll the rhodedendrons flower in deep pink and shine like gems in the forest of green and black.
On a smaller scale, orchids can be found in the grassy meadows as the butterflies flit from flower to flower. In summer the coconuty sent of fresh flowering gorse along the banks of the river is a reminder to apply some suntan lotion!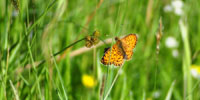 FAUNA
The full gamut of English wildlife can be found in Eskdale, The valley abounds with life, from otters on the lower Esk to Red Deer on the fells above. In the valley around Boot you are likely to spot Red Squirrels, Roe Deer and Badgers if out at night. In the sky you may well spot Buzzards, Falcons and Harriers, along with hoards of smaller birds such as Willow Warblers, Goldfinch, Dippers, Tree Creepers, Jays and Cuckoos. Herons fish the river and its tributaries and can often be spied outside Brook House Inn on Eel Beck.
The wildlife of Eskdale is here for you to descover so bring you camera and binoculars, you never know what will be watching you!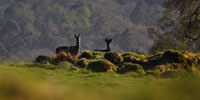 The river has a variety of fish life, including Eels, Brown Trout, Sea Trout and Salmon, with lots of smaller species. The fishing is srictly controlled so please seek advice before fishing.